PROJECTING PLANNING
We enrich our functional and long-lasting products with the experience we gain from our productions for the markets of automotive, food, production and service industry. We evaluate your demands with the needs of the industry and share the results with you as technical drawings. Subsequently, we serve the best project as soon as possible on your demand. You will be informed on pre and post production process for your possible needs.
Especially on automotive industry, ergonomic qualities of the industrial transportation vehicles should be maximum because of the importance of product visuality. To provide those ergonomic qualities, the project planning process must be managed seriously; the sizes of the product must be suitable for the pieces which will be transported and the logistical conditions and the materials should be chosen correctly for the production of the case.
Here?s the steps of projecting planning process:
According to project approval, Production Department will be informed with details of technical drawings and essential points.
Project officer checks the production periodically and inform your company during the production process.
Mass production of the frames of products starts after the cutting, drilling and bending procedures. Meantime, main body of the metal case will be producing by welding the frames.
Afterwards the detailed weldings will be completed and the product will be ready for painting process. The product will be placed most durable way and cleaned for the electrostatic painting.
Electrostatic painting is the most long-lasting and efficient way of painting for the metal products.
Painted products will move to assembly line and mounted sensitively.
Finally, quality-controlled products will be packed safely and dispatched for delivery.
Project officer will inform your company about delivery informations to avoid any conflict of information.
---
DESIGNING AND PRODUCTION OF STANDS
In the direction of customer, technical drawings will be formed and the informations will be shared. That will provide an efficient prototyping process. Users manuals will be placed in the boxes of the delivered packages of products.
---
DESIGNING PROCESS
According to needs, designs will be created and shared with the customer. Intelligibility of technical drawings is the priority of our design department.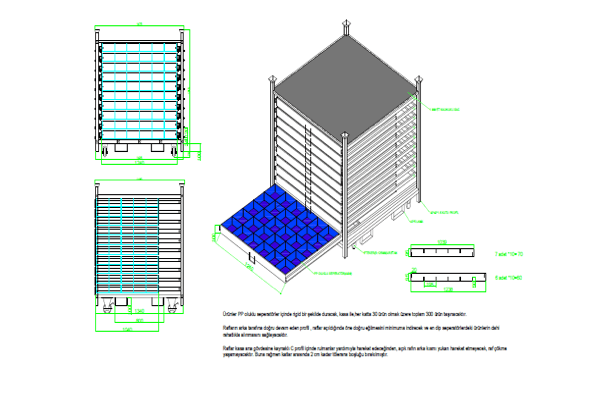 ---
PROTOTYPING PROCESS
All technical drawings will be elaborated and shared with Production Department. Chance of fail will be minimised. After prototyping process, our company will share a delivery plan and inform the production department about all the revises.